Disaster Preparedness
October 27 2013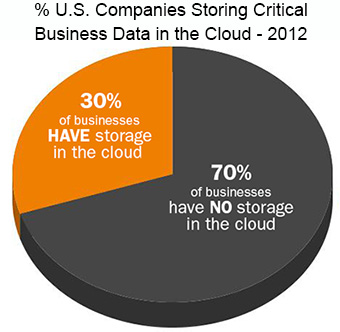 The pie chart at right shows one telling example of business preparedness in 2012. The statistics post-Sandy are not yet published, but we're certain they're still not at 100%, or even close.
One year ago today – October 27th – U.S. news organizations were beginning to make the public aware of the chance that Hurricane Sandy might take aim at New York, New Jersey, or Pennsylvania.
This extraordinary composite of satellite images shows the full path of Hurricane Sandy from space for it's entire lifespan. Equally interesting is watching the air flow over central North America caused by that unusual jet stream activity.
You can watch the days tick by in the small type at the top of the video.
With something like this bearing down on you the need for preparedness becomes very obvious. But what about 2013, during a weak hurricane season? Is the need still obvious?
Allow us to take you back to just one year before – October 2011.
A monster October nor'easter was moving in thanks to a low pressure system that had originated in the Ohio valley and then moved off the coast of the Carolinas . In the north east, the resultant wet snowfall on trees (still covered with leaves) knocked out power for homes and businesses in 12 states. Video below.